We are a team of family nurses covering the Tameside area. Our aim is to provide support to first time young parents who can benefit most from it.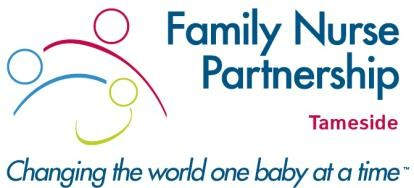 Why take part in the Family Nurse Partnership Programme?
Specially trained family nurses help young parents to understand all about their pregnancy and how to care well for themselves and their babies.
Family nurses provide young parents with information and guidance in the following areas:
Having a healthy pregnancy
Planning for labour and baby's birth
Improving your child's health and development
Building a positive relationship with your baby and others
Lifestyle choices that will give your child the best possible start in life
Identifying and achieving your goal such as finding a job or returning to education
What's involved?
Regular visits at home and in the community from your family nurse starting in your pregnancy, where you and your family nurse decide together what topics to talk about
How often your family nurse visits you will be a joint decision between you and your family nurse
The family nurse partnership programme will continue until your child's 1st birthday, with the possibility of continuing until your child is 2 years old
We know dads are important to babies, so we welcome dads or partners to join in the visits if they choose.
What our Clients say about us:
"Amazing and have really helped me out through tough times"
"Reassured me and been very understanding. Always been here when I need them"
"I feel interested because half of the information I didn't know before and I am learning something new every day"
"Having a family nurse gave me the confidence I now have as a parent… my nurse was always there for me, no matter what. She didn't judge but was there to support me"
"I can open up and learn more about what's good and bad for my baby"
ELIGIBILITY for Family Nurse Partnership
| | ENTITLED | NOT ENTITLED |
| --- | --- | --- |
| GESTATION | Under 28 weeks (ideally under 16 weeks gestation) | |
| RESIDENCE | Clients living in the Tameside area only | Women who plan to leave the area before their child reaches 2 years of age, or an extended period of time (3 months or longer) or permanently |
| AGE | Age 19 years or under at last menstrual period (LMP) | 20 years or over at LMP |
| FIRST PREGNANCY | Previous pregnancy ending in miscarriage/termination or stillbirth | Previous pregnancy ending in live birth |
| ADOPTION | No planned adoption at entry to FNP | Adoption planned for 20 weeks |
We work Monday to Friday 9am – 5pm and visit across the Tameside area
We can be contacted on 0161 342 7840
Main Office address:
Family Nurse Partnership
Ashton Primary care Centre,
193 Old street
Ashton-Under-Lyne
OL6 7SR